Cybersecurity is a long game and human risk mitigation is a continuous effort. If you have an organization that relies on the internet in any way, you may just be one breach away from disaster. It only takes one unaware employee to give malicious actors the foothold they need. By doing a regular cybersecurity risk audit for employees, you can identify those weak spots and deliver the right cybersecurity training to the right people.

The human factor is responsible for a vast majority of breaches. Malicious actors are no longer just tech-savvy hackers with streams of code, ready to do battle with firewalls and technical security measures. They have been focusing on people for years to gain access into servers and IT infrastructures. For that reason alone, doing cybersecurity risk assessments or audits of your workforce is a good idea. It can be the tool that helps you turn your workforce into your biggest cybersecurity asset.
How to do a cybersecurity risk audit for employees?
For an in-depth, full-service, employee cybersecurity risk audit with AwareGO you will first have a briefing with one of our cybersecurity experts. Our experts will work with you to understand your risk concerns. They will then advise on employee segmentation, risk exposure, timing for the audit and more. Finally, they will put together an employee cybersecurity risk audit that fits your organization's needs.
Before sending out a tailored Human Risk Assessment to your employees, our expert will give you an overview of the questions and topics. The assessment will measure employee knowledge and behavior across six threat areas. To ensure better participation our experts will send out regular reminders to employees.

Once the Human Risk Assessment time has finished our cybersecurity experts will compile the results into a comprehensive audit report. The employee cybersecurity risk audit report will show you both your weakest and strongest cybers security threat areas. It will also have detailed recommendations from our cybersecurity experts with actionable items on how to change key behaviors. You will then get a follow up meeting with your cybersecurity expert to go through the report and next steps.
What is a Human Risk Assessment?
Many companies claim to have the right tools to do an cybersecurity risk audit for employees. They send out questionnaires or surveys or offer phishing simulations. AwareGO has come up with a Human Risk Assessment tool that goes beyond both surveys and phishing simulations. It measures knowledge and behavior through interactive scenarios.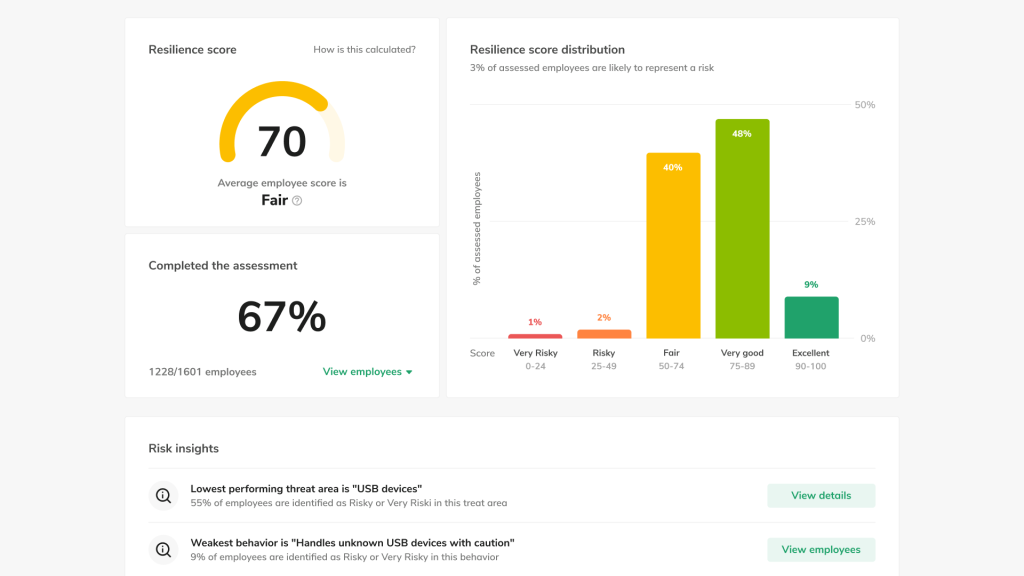 The Human Risk Assessment was created by cybersecurity and human behavioral experts to measure cybersecurity awareness, knowledge and behavior. It goes beyond any phishing simulation known today as it doesn't set employees up to fail. Nor does it give false positives or negatives when employees simply do not respond to simulated phishing emails. The Human Risk Assessment can be used as a stand-alone phishing test, but it can also give you reporting on other threat areas such as password security awareness, device and sensitive data handling, remote work security, physical security and more.
What should you do with your cybersecurity risk audit report?
Your Employee Cybersecurity Risk Audit report will be yours to own as well as all data on .csv files for a more granular approach. Once the audit report is ready our experts will give you recommendations on the next steps. It's not just about statistics the report includes actionable data that will help you make decisions on how to fix behavior and knowledge gaps.
Although AwareGO does offer cybersecurity training you are in no way obligated to purchase your training through us. The Employee Cybersecurity Risk Audit can be used independently to check your organization's cybersecurity stance no matter what kind of training you currently use. Our expert will simply guide you in making the best decisions regarding the next steps. For example, which groups need additional training and in which threat areas, creating or changing policies and so forth.

The Cybersecurity Risk Audit report will also help you bring data to upper management in a clear and concise manner. It can help you answer questions about the status of cybersecurity within the organization and show the need for increased cybersecurity training or implementation of policies.
Does my organization need a cybersecurity risk audit for employees?
All organizations need regular audits to prove to upper management, clients and investors that things are in order. Doing a cybersecurity risk audit for employees is just one cog in a much bigger machine that is your overall cybersecurity strategy. In order to fortify cybersecurity, deliver the right training to the right people and create security policies that make sense for your organization you need to know where you stand.
Contact AwareGO or click the following link to get a quote for your Employee Cybersecurity Risk Audit today.